Profile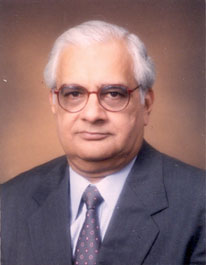 Aminullah Chaudry was born on 24 Februaury, 1944. He received his earlier education in two missionary schools-St.Anthonys School, Lahore and St. Placids School in Chittagong, East Pakistan (now Bangladesh).
He did his 'A' levels from Aitchison College, Lahore and then moved on to Government College, Lahore where his name was inscribed on the Academic Roll of Honour.
Aminullah Chaudry has an LL.M from the London School of Economics and Political Science, UK.
In 1967, he was appointed to the elite Civil Service of Pakistan (CSP) after competing successfully in a competitive examination conducted by the Federal Public Service Commission.
During the course of a career spread over 37 years, Aminullah worked on a wide spectrum of field and staff appointments. These included Commissioner, Faisalabad, Commissioner, Lahore, Secretary Finance (Punjab) Secretary Education (Punjab), Director General Lahore Development Authority and Secretary to Prime Minister of Pakistan. His last assignment was as Director General, Civil Aviation Authority, Pakistan.
Aminullah Chaudry is a keen golfer and in 1976 he won the Punjab Amateur Golf Championship.
He is married with two sons, Omar and Osman.